I found this picture a couple of days ago while looking through an old computer for files I needed to copy off of it before repaving and repurposing.
This is one of the very few pictures I have of myself from my Army days.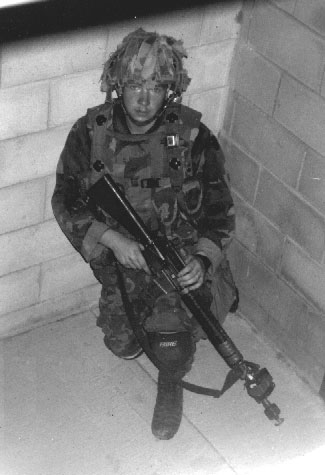 This was taken sometime during 1994. We were at the Marine base in San Diego training at their MOUT city (Military Operations in Urban Terrain). I remember it was hot, hot, hot and we were spending our time in cinder-block buildings and crawling around in tunnels under the city. I was just a kid - probably twenty-three. Thirteen years ago - where has the time gone? It seems like a lifetime ago.
I spent six years in the Army. I was light infantry nearly the entire time, which means that we didn't ride - we walked everywhere we went. In fact, in one unit I was assigned to we did quarterly 25-mile road marches carrying 100 lbs of gear just to stay in shape. I was stationed at Fort Ord, CA (Monterey - very nice. The post is no longer there); Ansbach and Hohenfels, Germany; and Fort Lewis, WA (Tacoma). I also spent time in Panama (Operation Just Cause), spent two weeks in Korea (Team Spirit), and spent quite a bit of time at Ft. Benning, GA - the home of the Infantry!
I got to ride in helicopters (sitting in the door of a Blackhawk with your feet hanging out while flying only feet above the treetops is an awesome experience), ride in an Abrahms tank, drive an APC (armored personal carrier) at 50 mph across the desert floor, shoot a .50 cal machine gun, fire anti-tank rockets at old tanks, train with shoulder-fired anti-aircraft missiles, blow up shit with C4, train with nearly every small arm in the Army arsenal, the list goes on and on. It really was an amazing adventure. Luckily I never had to fire anything at a real person, though I was armed, prepared, and had instructions to do so if necessary in a couple of situations - Panama (Operation Just Cause) and Germany (guarding a Patriot missile installation during Desert Storm).
I really enjoyed my time in the Army and came very close to making it a career. In the end I decided that I was finally ready to go to college, so I moved on.