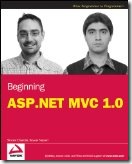 I finished reading Beginning ASP.NET MVC 1.0 this past weekend. Keyvan Nayyeri and Simone Chiaretta did a great job with this book. It should be simple enough that a pure beginner will be able to get up and running yet it contains enough depth that anyone but an ASP.NET MVC expert will learn at least a couple of new things. It is easy to read and the examples are well done. The examples are not too contrived and are "real world" for the most part. In fact Keyvan recently expanded on the blog sample code in the back of the book and is now running his site on that code.
If you have some experience with ASP.NET MVC then you may want to just skim the first half of the book that focuses on concepts and dig into the second half of the book which has more detailed implementation examples. Or you can jump straight to Professional ASP.NET MVC 1.0
. [Disclaimer: I have not read the Professional book yet]
If you are interested in learning about ASP.NET MVC but have not spent much time playing with it yet then this is definitely the book for you.