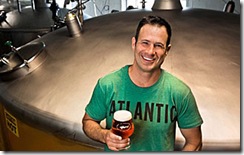 Have you seen Brew Masters yet? The new Discovery Channel show focuses on Sam Calagione and his brewery, Dogfish Head. Never heard of him or the brewery? Go stand in a corner: you get a timeout for failing life.
If you're a fan of the brewery or of craft beer in general then you will like the show. But you will also enjoy it if you like business, or you like craftsmanship, or you like humor, or you breathe and have a beating heart. Okay, it may not be for everyone – people who hate puppies probably will not enjoy it.
Last night's episode, Grain to Glass (Dec-9-2010), was especially interesting because it showed the brewery making the decision to dump 20,000 gallons of their 120-minute IPA down the drain. They said the batch was worth approximately half a million dollars ($500,000)! Why did they dump it? Was it "bad"? Nope, by all accounts it was good. But it was not great and it did not live up to their high standards for the beer. So instead of ship sub-standard brew they instead dumped it all down the drains. Lucky drains!
I learned quite a few things from watching the episode. See kids, learning can be fun! Well okay, not all of the below is new to me so I may not have technically "learned" them all, but if nothing else they were reinforced by the show.
What exactly can you learn about business from watching a show about brewing beer?  Well, probably not much other than how to brew beer. But Brew Masters is a show about brewing *craft* beer, and that makes all the difference in the world. In no particular order…
It's never too late in the process to yell "STOP! Something is wrong!"
Quality Control is everyone's job.
Do what you love and what you are passionate about. Period.
Don't base decisions on the best way to maximize profits and/or minimize losses. Focus on delivering the best product you can deliver. Everything else will take care of itself.
"Good enough" is good enough for the other guys – never settle for less than your best.
Sometimes you have to step back and start from scratch.
Surround yourself with people as passionate about what you are doing as you are. i.e. – If you're a craft beer brewery and you need to hire an accountant, don't just hire a good accountant – hire a good accountant that loves craft beer!
Keep it fun. Don't be afraid to experiment and try crazy stuff.
 Did you see the show? Any other "lessons" we should take away? Do you disagree with any of my points?