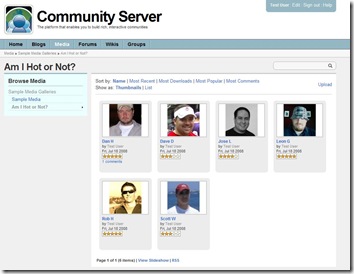 We're always working on something cool at Telligent, whether it be an entirely new product or some type of addition or extension to Community Server. Some good examples are some of the things we came up with in Hackathon II, including the couple of IM clients that work with Community Server messaging. If you haven't already read about some of the thing we came up with you can see them here and here.
Recently over a late night IM session with Dave Donaldson, we pondered the benefits of certain types of social bookmarking functionality as well as other Web 2.0-like features. After our talk my thoughts turned to even more features and functionality and eventually settled on "Am I Hot or Not?". No, I'm not a perv - well not most of the time. However, a long time ago I built a clone called "Am I Dan Hounshell or Not?" in about an evening and ran it as part of my site for a while. My friends and I had a lot of fun with it.
I began wondering what it would take to to build the same type of application on top of Community Server. CS has a media gallery, right? It shouldn't be too difficult to build the rest of the needed functionality on top of the media gallery, right? As I began looking into it I realized that my initial assumptions were wrong. Everything for Am I ___ or Not? is already there. In fact if you look at the screen shot at right you'll see a mini Am I Hot or Not application running right inside of Community Server! That's with a bone stock installation of Community Server 2008 running on my local PC right now, with no modifications, no skin changes, nothing. Everything is built in :). [Editor's Note: Maybe in the case of the jokers in the screenshot it should be "Am I Nerdy or Not?"]
Community Server already has a Media Gallery which allows for uploading and viewing images, among other things. But it also has ratings and comments for each image/file built-in as well. You can also sort by Most Recent, Most Downloads, Most Popular and Most Comments. You can view all the images as a slideshow and there is even RSS! What more do you need for an Am I ___ or Not site? The only thing I needed to do was create a new Media Gallery, named "Am I Hot or Not?" (of course) and then give Registered Users permission to upload files to that gallery. If you want you could even add a link to the gallery in your site's main navigation.
I doubt that most people and organizations running Community Server need or even want an Am I ___ or Not? application as part of their site (or give all registered users the ability to upload files to a gallery), but for the one or two of you out there who do - look no further than the Community Server platform you already have!
And if you're wondering what else you can do with Community Server, come join us at in.telligent 2008 in Dallas October 20-22 and take part in some of the great workshops, including theming and extending Community Server.