This evening I got to be an artiste! Yes that's right - artist with a trailing e.
Dawn has a craft show Saturday where she will be selling cupcakes and she needs ingredients stickers to go on the bottom of the cupcake packages and wanted a logo to go on the top of the packages. I came to her rescue, fired up the ol' image editing software and showed off my skillz.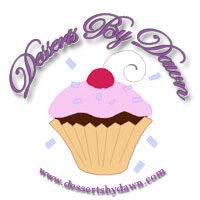 (FWIW, the drop shadow really makes it hard to read when displayed here, but it actually adds to the legibility when seen in print.)
Uh-huh. I know. Badass, huh?
Of course I'm kidding. Well most of the story is true, I did create that logo for her to use on the cupcake packages. The cupcake is some clipart she found somewhere - I just colorized it and added the wording. The top and bottom text are both arched because the logo needs to fit on a 1-1/2" dia circle.
But I know it is not badass. It is acceptable, though. And the smallness will hide my artistic weaknesses. Nevertheless, I feel that she should brag to all the other hens, um.. I mean ladies, about her "custom" artwork!!
BTW, the cupcake flavors for this weekend are Chocolate Chocolate, Vanilla Vanilla, Banana Split, Mint Chocolate Chip, Lemon Drop, Peanut Butter & Jelly, and Cookies-n-Cream. She'll start cooking them tomorrow - 12 dozen - my mouth is watering already.