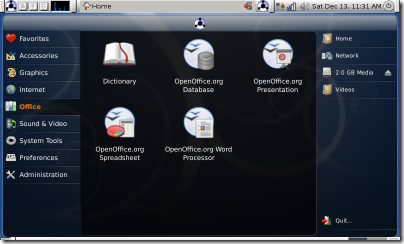 For the last couple of months I've been using Eeebuntu Netbook Remix on my Asus eee PC 900. I'm a true blue Windows user and have been since Windows 3.1 and MS-DOS before that. But I've dabbled with various Linux versions over the years to keep up to date and to know enough to get around. Because of this I wasn't too fearful of buying a netbook without Windows. I'd also done enough research prior that I knew what I was getting myself into.
Eeebuntu was built specifically for the Asus eee netbooks and is based on Ubuntu. The Netbook Remix version (NBR) uses the Netbook Launcher, a customized simple tab-based UI. It makes it easy to find and launch the day to day programs you use on the little netbook – mostly just Firefox in my case.
Another Linux distribution optimized for netbooks, specifically the eee line, is EasyPeasy. I have not run EasyPeasy yet since I've been pleased with Eeebuntu NBR, but I've read some good reviews about it.
Friday I read about a new distribution released specifically for the eee line, OpenGeeeU 8.10 Luna Serena. OpenGeeeU is based on EasyPeasy and OpenGEU. Here is a description from the site:
OpenGEU, previously known as Geubuntu, is a complete and fully functional Operative System based on the popular Linux Distribution Ubuntu. OpenGEU, a project started and designed by the Italian artist Luca D.M. (aka TheDarkMaster), is perfect for any Desktop, Laptop PC or even for a Virtual Machine. OpenGEU mixes the power and simplicity of Ubuntu and parts of the Gnome Desktop with the wonder and astonishing eye-candy of Enlightenment DR17.
I'm thinking about giving OpenGeeeU a spin, especially after watching this video – it is almost breathtaking.
Here is a link directly to the video on YouTube if you're having trouble viewing it here: http://www.youtube.com/watch?v=bZBGkuhiZCo