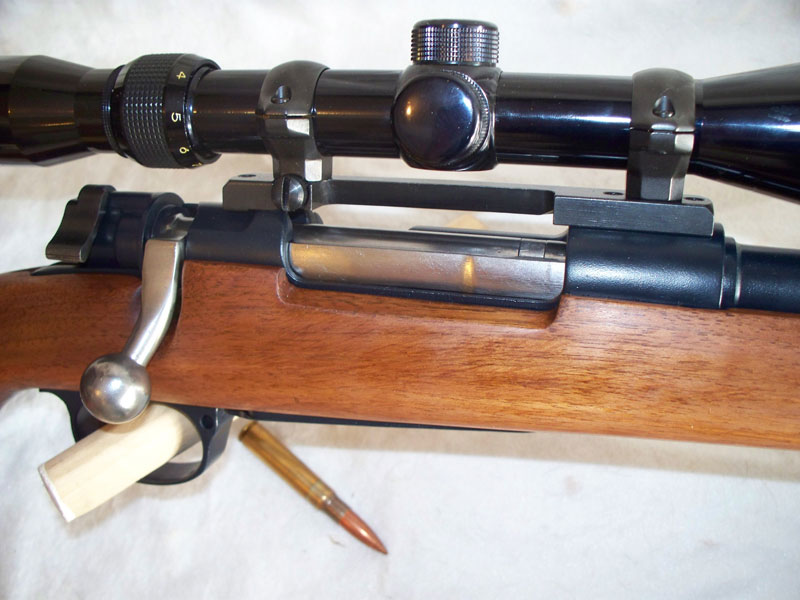 I can't believe it has been over 3 years since I finished my first rifle. Times slips away too quickly. The lapse could have something to do with spring of 2006 being when Dawn found out she was pregnant with Tucker. We spent that summer and fall doing all kinds of construction projects to get the house ready for the new addition to the family. I've probably spent a good portion of the rest of my spare time since tending to the little guy.
I finally finished up my second custom rifle project this past weekend, a 1950's/60's sporter inspired hunting rifle in 8x57 Mauser built on a surplus military action.
I received the donor rifle for this build several years ago as a Christmas present from one of my brothers. At the time Aim Surplus was selling fair/good Turk Mausers for $39.99. Today you can't touch any mauser, even a mis-matched fair condition Turk rework, for under $100. Over the years since I performed a little bit of work on it at a time – replacing the trigger, safety, springs, etc. – but never really had a vision or devoted myself to finishing it until earlier this summer.
A little history lesson first. During the late 19th Century and early 20th Century, Turkey, and the Ottoman Empire before it, kept its military very well armed and liked to be on the bleeding edge of small arms technology. They, like many other countries (European, South American and Asian) bought lots of military Mauser rifles from the Mauser brothers and Germany starting in the early 1890's and running through World War II. The Turks also bought lots of surplus rifles after WWI and WWII from Germany, Czechoslovakia, and other European countries and were awarded rifles and parts as war reparations. Turkey also made their own rifles, under license from Mauser. The Turks had lots of rifles and parts on hand and several times performed large refurb projects on their entire arsenal to bring all their rifles to the latest specs. Two of the largest refurb projects were done in 1938 and 1954. The one in 1938 involved converting stocks and sights and the cartridge of older rifles to the 8x57 Mauser (or simply 8mm Mauser) round so that everything they had would look the same and fire the same round. The 1954-1956 project included refurbishing WWI German mausers from their surplus and building new rifles from parts.

My rifle is one of those WWI-era German 8x57 Gew 98's that was refurbished in 1954. I call it a "Turk(ed)" Mauser because it is not a rifle manufactured by Turkey or originally built for them, but instead one that they refurbished, altered, or built from surplus parts. The original German crest and markings were scrubbed and replaced with "ATF 1954" on the receiver ring. "ATF" is the abbreviation for the Turkish arsenal where the rework was performed. I did some research to try to determine the origins of the German rifle, trying to find any markings that would disclose its original place of manufacture and date, but I found nothing that yelled out to me. I'm sure someone could have dated it, but I'm just an amateur Mauser historian and gave up after a few hours. Had the rifle been in good shape and had matching numbers then it would have been an interesting and (somewhat) valuable collectible. However, mine had some light pitting on the receiver and barrel and none of the serial numbers between the receiver, barrel, trigger guard, bolt or anything else matched. It was apparent that it had been cobbled together from spare parts and really had no collector value, which made it a perfect choice to use as the base for a custom rifle.
To keep the build affordable and to show a little love to those before me, the inspiration for the rifle was a 1950's/60's sporter rifle. Thousands of sporter (or sporterized) rifles were built in the 50's and 60's from surplus military Mauser rifles by professional and amateur gunsmiths alike. The rifles were readily available, having come home in the duffle bags of returning soldiers and being imported by retail stores across the country like Sears and Montgomery Wards. Though each rifle has its own style there are several defining characteristics that define the look of that era, including use of the original military barrel, white line spacers, high see-through rings, very slim almost European-style stocks, and more. Most of these sporters were not intended to be show pieces or collectibles, but because of the low-cost of the surplus rifle were built as budget hunting rifles. Many of these older sporters are re-emerging on the market today as they are being passed on from the WWII generation and their children to younger generations who don't want or need an old rifle and have no idea of the work and skill that their grandfathers poured into creating such a piece. They can be found in garage sales, estate sales and on online auctions like Gunbroker.com and AuctionArms.com. Some of them are in great shape but most need a little TLC to bring them to their former glory. Alas, styles change and the look of those 50's/60's sporters is no longer fashionable. However I still admire the workmanship and honor the heritage.
Now enough of the history lessons, let's on to the specifics about my build. The original barrel's rifling was in surprisingly good shape so I chose to keep it and the original caliber rather than re-barrel it with a new commercial barrel to another caliber. The 8x57 round, though designed over 100 years ago, is still popular today, especially in Europe. In the US it has seen somewhat of a revival over the past 10-15 years because of the new surplus import rifles from countries like Yugoslavia, Czechoslovakia and Turkey (though sadly these imports seem to be drying up) and the large amount of surplus ammo available. The 8x57 round is no slouch and is comparable in performance to the ever-popular 30.06. It is fully capable for use on even the largest game in North America, something that is often said about the 30.06. After deciding to keep the barrel I had to clean it up as well as I could. Even though the bore looked good I swear I had to run 100 patches or more through it in addition to bore brushes, copper remover and various other cleaners (Hoppes #9, FTW!). The military sights were removed from the barrel and I cut it to 24 inches and re-crowned it. I had to do quite a bit of metalwork, including filing, stoning, sanding, and sandblasting, to the receiver, barrel, trigger guard, etc. to remove light pitting and clean up 80+ years of patina. A lot of the internal parts were replaced and/or updated. All the springs in were replaced with new Wolff springs. The safety was replaced with a Timney Buehler-style low scope safety. The military trigger was replaced with an adjustable Timney trigger. I added a Brownell's extended floorplate release and swapped out the bolt with one with a forged handle so it would clear a scope. The bolt and extractor spring were cleaned up and polished. I added a Redfield 1-piece scope base with Millet rings and topped it off with a nos (new old stock) 1970's era 3-9x40 Tasco scope that was made in Japan. The scope looks brand new, the optics are crystal clear, and I think this is the first time it has ever been mounted on a rifle. The stock was a used stock that I got from ebay that was in decent shape; it just needed some sanding, cleaned up, and a little Tung oil to make it respectable. I performed all the work myself including the metal prep, drilling and tapping for the scope base, fitting it to the stock, bedding, and finishing all exterior metal with a Duracoat spray-on finish that is a "gun blue" color.
Though there are some things I would change if I had a chance to do it again, I am rather pleased with the end result, especially considering it is just my second project and the budget price for the entire project. Even though I replaced the springs, trigger, safety, etc. I have less than $250 in the project including the scope, base, and rings. Not too shabby for a couple hundred dollars and many, many hours of work. I'll be even happier if she's a good shooter. And while you wouldn't mistake it for a 60's era sporter, the heritage can be seen.
I've already started on my next project – hopefully it will not be 3 years before I complete it.