http://www.heraldsun.news.com.au/common/story_page/0,5478,15786265%5E663,00.html
This evening I'm planning on taking my little girl (who believes she is the world's best fisherma…, um fisherperson) fishing to a little fishing hole my brother introduced me to this year.  I have seen some big fish in there, but nothing to rival the 600+ pound beast shown in the article above.
Following are some pics of some monsters that we caught a couple of weeks ago.  I am the guy on the left, my son, Jared, is the guy on the right.  Despite the look of the pictures, it wasn't dark yet, but it was getting close.  I'm a little wet in my picture because while I was taking Jared's picture, my fish hit and I had to go in about thigh-deep to chase down my rig before it disappeared forever.  It was pretty amusing actually, since I still had the digital camera in hand at the time.
They're not monsters, of course, but it is fun trying to bring in a 2-3 pound bullhead on ultralight tackle.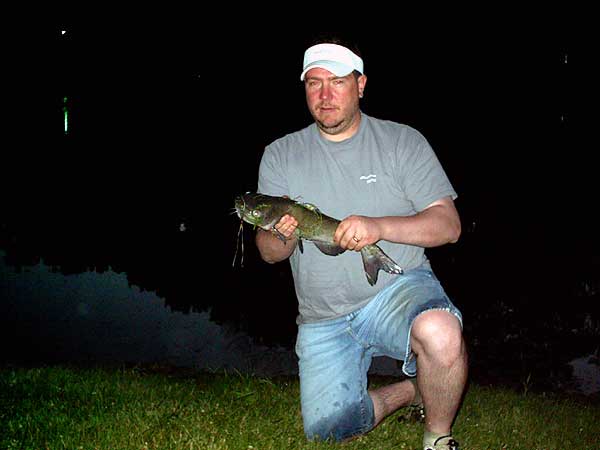 On that same day we also caught a bunch of bluegill, a couple of turtles (first place I've ever caught turles on a nightcrawler!), several other catfish, an old dead branch or two, one crappie, and a boot.  Actually, we just found the boot at the edge of the water, we didn't really catch it.   We also got swarmed by bats about the time those pictures were taken.  It was a real experience.  Take a kid fishing - you'll be glad you did!