No, no, no - it is alive and well.
I don't have much to say today after the spanking the Cleveland Clowns put on my beloved Cincinnati Bengals yesterday. It's also much too early in the fantasy football season to begin talking smack. And the normal late summer / early fall activities have kicked into full force.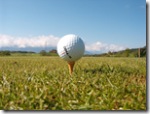 My son, Jared, is part of the Monroe High School golf team this year and is at practice or a match four nights a week. Luckily, most nights he is at Pleasant Hills Golf Club, which is only about 2-3 miles from here, but he spends some time at Shaker Run (about 10 minutes away) and he also has away matches from time to time as well. He's really improved this year, going from shooting a 75 (on nine holes) about two months ago to shooting in the low 50's the last couple of matches. I'm really proud of him. He will more than likely break into the 40's before the season ends next week. I guess that's what happens when you spend that much time on the course - you're scores get better. I wish I could spend a little more time out on the links.
[Update: 9/17, 7:42 PM] - Jared has shot a few pars recently and told me that he got a birdie at practice last week. I was pumped for him because I've only gotten par a few times in my life and I've only had one real good chance at a birdie - a 4 ft putt that I choked on, pushed it right. I picked Jared up from school after his match today. Jared didn't play today because he sat out to let a girl on his team play that had not played yet all year. He told me that instead he and his coach played a couple of holes together and that he got a 3 on a par 5. I just looked at him. "You mean you got an Eagle!" He just nonchalantly says, "Is that what it's called? Yeah, it was no big deal" with a huge grin on his face.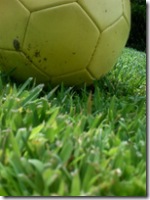 My daughter, Regan, joined a select soccer team (U9). They practice two nights a week, a couple of hours on Saturday and have games on Sunday. Yesterday was her second game and she scored her first goal of the season - and she did it with her left foot! She's a natural righty, but she's spent a lot of time lately working on kicking with her left foot. I've told her to quit screwing around, but I guess she knows more than I do! A teammate crossed the ball about 10 feet in front of the goal (from right to left) while she was coming in from the left side. It looked like it got past her, I said to myself, "She won't be able to get a shot", and the next thing I know she boots it with her left foot just as natural as can be. Put it right in the bottom left corner of the net. I was amazed and proud, too, of course.
Other than carting the kids around from place to place there isn't a lot else going on. I'm truly enjoying the start of the NFL season. I'm working on a couple of cool new things for the www.asp.net site. I make an occasional update to the WhatIWantMost site. And that's about it.