Last Friday someone who will go unnamed dropped our TV remote on the floor for the final time. Since replacing our carpet with oak flooring several years ago our remotes have been taking a beating. The occasional drop onto the carpet seemed to rarely hurt them. A drop from an end table to the wood floor tends to permanently detach battery covers, chip corners, and eventually completely disable the remote. They've been living for years bound together by electrical tape, rubber bands and hope. The television remote was on its last leg and required that you either squeeze it or tap it on a hard surface before it would work. It drew its last breath on Friday April 1st before making a final though un-glorious plunge to the floor.
Prior to Sunday we were happy living with a separate remote for the TV, primarily just for turning it on/off and adjusting the volume, and cable box remote provided by Time Warner for changing channels, DVR setting and playback, etc. We also kept the DVD remote and VHS player remote (we have a lot of old Disney movies still on VHS) in a drawer for the occasional DVD and tape viewing.  That all changed Sunday when I returned from Best Buy with a new Logitech Harmony 300 remote.
I've longingly admired the Logitech Harmony line of remotes for a long time, but considered them too pricey and a luxury item.
This looks fantastic, but at MSRP of $399.99 I must pass on the Harmony 1100 Advanced Universal Remote …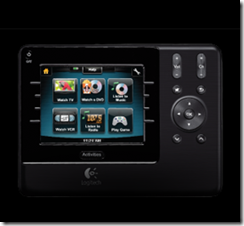 These are almost as cool but at $399.99 and $249.99 the Harmony 900 and Harmony One Advanced Universal Remote are still out of my price range…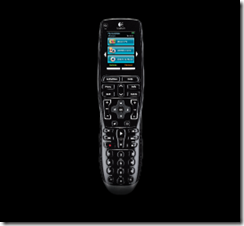 And I don't really need to control 15 devices. I only have 4 devices in the living room and 5 in the family/media room.
At $149.99 and $99.99 the Harmony 700 Advanced Universal Remote and Logitech Harmony 650 Remote are closer to my price range but because of previous history I know it will get abused. I wanted something cheap that I won't feel so bad about having to replace in a year after an inevitable accident with the floor.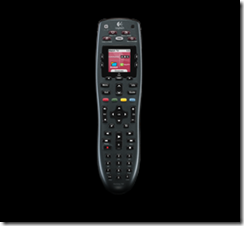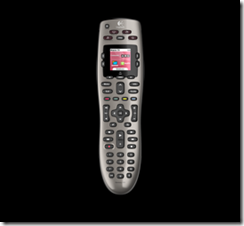 And here we have it: the low-end Harmony 300i remote for $39.99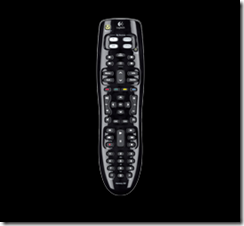 No touch screen, controls 4 devices, and fairly inexpensive. It's still programmable like its big brothers. It's dead simple to setup, just connect to your PC via USB, go to the My Harmony site, enter in the Manufacturer and Model names for each of your 4 items and done. While the cheapest Harmony remote, it doesn't feel cheap – it's really solid. It feels good in the hand and it works well. It's also really easy to use and the controls are very familiar, I didn't have to explain to anyone how to use it. Final step: throw the existing four remotes into the bottom of a drawer somewhere, you'll never use them again.
Hopefully it will hold up to our abuse but I'm sure I'll have to replace this eventually. In a few years I hope to step up to one of the bigger, slicker, more fully featured Harmony remotes, but this will do very nicely for now.