Unfortunately I didn't like The Non-Designer's Web Book by Robin Williams and John Tollett as much as I liked the last book that I reviewed. It's not that it is a bad book in any way, it's just that it wasn't what I expected. Based on the title and the blurb on the cover, "The award-winning best-selling web design book", I expected a book about web design for non-designers. I expected a book for someone like me. I'm constantly looking for tips and reading material about web design. I am a competent web developer but I'm occasionally put in the position to design a section, a page, or even an entire site sometimes. I really want a book about color wheels and some design theory and that looks at good designs from other sites and says "do this" and "don't do that".  I was hoping this was that book.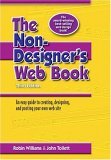 In reality, though, this book is a book about producing a web site (singlehandedly for the most part) for the complete web novice or at least the complete web developing novice. The first four chapters and approximately 100 pages of the book cover things like how to connect to the internet, explaining what a search engine is, discussing what WYSIWYG tool to use to develop your pages, and what a browser does. I quickly realized that this book was not for me.
All was not lost, though. I soon found some chapters that were exactly what I was looking for. Chapters 5-9 discussed color, some basic design principles, and UI design. However, they took the same uber-simple approach as the rest of the book. So while I did gain a couple of things here and there it wasn't what I had hoped. Chapter 11 did offer a refresher on image manipulation and preparation and re-iterated what I already know and practice. The remainder of the book covered basic use of css, table-layouts, testing your site in multiple browsers, how to upload files to the server, and how to register your site with search engines.
I don't know how many times I have to learn the lesson that you can't judge a book by its cover before I quit making the same mistake. So this wasn't the book for me. However, it would be a great book for my mom, my wife, my son or any other novice who would like to know more about web site production. Additionally, it is a beautiful book with nice glossy pages, wonder full-color images, etc. 
So if you have any web development experience at all then don't buy this book. If you are completely new to web development and want to either put together a site for yourself or would like to know more about building web sites then it will probably serve you well.